Mooring Systems & Service
MSNZ is a NZ wide mooring provider currently maintaining over 1300 moorings in the Marlborough region at the top of the South Island of New Zealand.
MSNZ services and installs both chain and elasticated environmentally friendly mooring systems. Utilising our two vessels Soundz Image and Soul Commitment, which are purpose built for anchoring and mooring work, we can set or lift, up to 5 tonne blocks from the seabed onto the deck. Using our Differential Global Positioning System, we can exactly place, locate or reposition your mooring.
All moorings are required to be serviced, checked, and certified compliant every two years. As your mooring provider we maintain a client database. Our team will contact you prior to your service date for authorisation to complete your inspection. MSNZ will maintain your mooring to ensure the safety of the system for another two years. Marlborough District Councils Minimum Mooring Standards recommendation is to change any tackle out at 20% worn. We stand by our workmanship for the following two years to meet our obligations under The Consumer Guarantees Act 1993.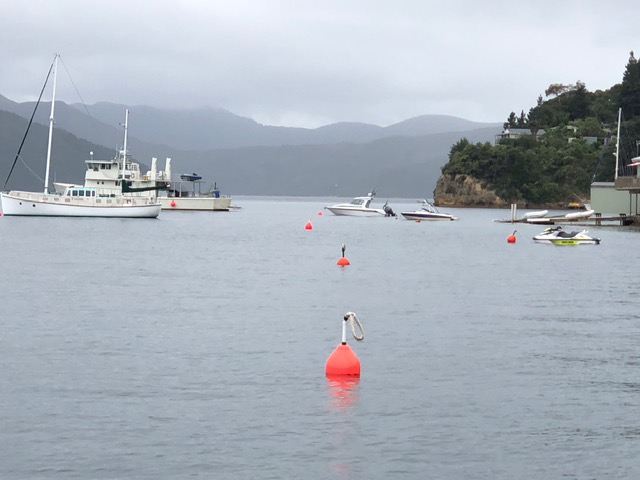 Mooring Services
Engineered concrete blocks 2 to 5 tonne
Non-disturbance systems
Biennial inspections
New installations
Mooring system upgrades
Certificates of compliance
Cleaning service
Courtesy reminder
Advice
Resource Consents
Marine Flex installation & servicing
Thanks for the Resource consent renewal. I'm always happy with the work you do.
We have been working with Marine Services NZ for the past two years, since engaging them to replace all 10 moorings in front of the resort to meet the requirements of our resource consent. The team at MSNZ are very responsive and professional and the work carried out could not be faulted. Following that we had urgent repair work needed on one of our jetties and again, the response was prompt and the service we received was very professional, from the support team in the office, to the crew on board the vessel. We will continue to use MSNZ moving forward and have no hesitation in recommending their services